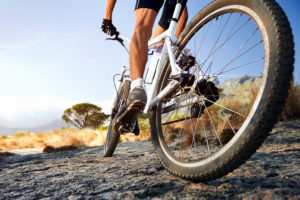 Riding a bicycle was something that many of us did on a daily basis throughout our childhood. Today, more and more people are riding bikes for exercise, for a thrill, or even for fundamental reasons, such as getting to work without having to sit in traffic. Like most things, there are good and not-so-good aspects to frequent bike-riding.
Some of the benefits of cycling include:
Biking is a low-impact aerobic exercise compared to activities such as running or aerobics classes. This is especially relevant when we're talking about stationary bicycles.
The forward-leaning position of bike riding feels good to some people who tend to struggle with frequent back pain. Data suggests that bike-riding may be a comfortable activity for individuals with lumbar spinal stenosis.
Recumbent bikes, which are a type of stationary bicycle, may also be comfortable for certain types of low back pain, such as degenerative disc disease affecting the lumbar area. This is because of the slight reclining position of the backrest.
Some of the ways that cycling could cause pain include:
Back muscles tend to be poorly conditioned to handle the movement and positioning of cycling.
Some bicycles require a more prominent forward-position, which forces a backward arch of the neck, which can cause strain in the cervical and thoracic spine.
Mountain biking or other rough terrain jars the spine and forces compression.
Mitigating Risks
There is the risk to everything we do. That doesn't mean we shouldn't engage in the activities we enjoy. Bicycling offers too many benefits to cross it off your to-do list. Instead, do this:
Ride the right bike for the right purpose. If you're riding on rough terrain, you need a mountain bike with bigger tires that will absorb the consistent shock of the ground.
Make adjustments for your body type. It is imperative that proper body mechanics are used in physical sport. When you purchase a bicycle, have it adjusted for your body before leaving the shop.
Learn how to pedal. Yes, this is a real thing. The salesperson who sells you a bicycle should be able to discuss or even demonstrate a proper pedaling technique.
When riding, learn how to distribute your weight from the back to the arms and back again, so no muscles are forced to support the body at all times.
Avoid neck strain by gently moving your head up and down periodically throughout a bike ride.
Do you need to consult with an NYC orthopedic surgeon? Call the office of Dr. Todd Albert at 212-606-1004.